Le Coup de Fouet (Whiplash)- non filtré - Villette Grand Cru - Lavaux A.O.C - 2020 - Demeter
Our Chasselas aged for 12 months on their lees until it is put into the bottles without any filtration. It conveys the virtues of the soil in a velvety, fresh, and slightly beading juice, wrapped in her beautiful satin dress…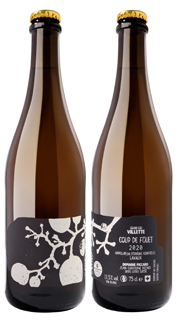 CHF 19.00
This magnificent 2020 vintage, resulting from spontaneous fermentation, pushes the idea of ​​wine a little further once again, and without sulfites until bottling. With 18 mg / lt. of total sulfites, it cultivates "nature" even more. The Coup de Fouet 2020 is very expressive, round, but still, totaly fresh!
***Sold Out***Le Coup de Fouet 2020, Chasselas on yeast Villette Grand Cru, Lavaux A.O.C - DEMETER/b>
Chasselas havested from the 28.09. to the 01.10.20 85°Oe, 0.75 Kg/m2
Sulfites added: 3 mg/lt.


75 cl bottle - crown cap


---