SEVEN – a blend of 7 red grape varieties - Villette Grand Cru - A.O.C Lavaux – DEMETER
Seven ; the blood of plants, life, flow and the number 7… what do they have in common? This absolutely rare and extraordinary cuvée, made from Pinot Noir, Plant Robert, Gamay, Gamaret, Garanoir, Syrah and Merlot all pressed as a white wine.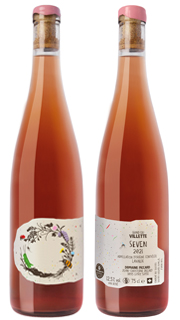 CHF 38.00
The "suc" (aka, the excess juices) of 2021 can be characterized by the word patience. 2021 was a courageous and exceptional harvest (often grain by grain...) and the last stage of a wine-growing year marked by a catastrophic flowering due to bad weather, which lasted until the end of July. (The Swiss average precipitation was 3 times the norm…) What Misery! But in the end, nature spoils us… A sort of little miracle, in the bottle.
SEVEN 2021, a blend of 7 red grape varieties - Villette Grand Cru, Lavaux A.O.C, Demeter
• Pinot Noir, Plant Robert, Gamay, Gamaret, Garanoir, Syrah & Merlot harvested from 01.10.2021 to 02.10.2021
Free of any additives or sulfites.

75cl bottle - technical cork
---