Gamaret-Garanoir - Villette Grand Cru - 2019 - DEMETER
Created by trial and error of genetic crosses (non-GMO!) at the Pully wine research center, these two grape varieties of Swiss origin are a bit like brothers and are well adapted to our climate and terroir.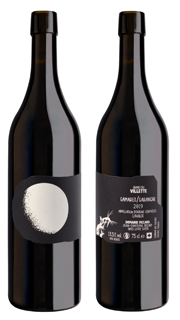 CHF 28.00
Harvested in mid-October, at full maturity then fermented together and aged in wood for 12 months. The result is an expressesion of the 2019 vintage enrobed in velvet yet fresh and exhaling the subtle yet complex notes of our terroir, cared for in biodynamics. What happiness!
Gamaret-Garanoir 2019, Villette Grand Cru, Lavaux A.O.C, Demeter
Gamaret harvested on 13.10.2019 92°Oe/0.9Kg/m2 (60%)
Garanoir harvested on 13.10.19 92°Oe/0.9 Kg/m2 (40%)


Sulfites added: 20mg/l - Tot.Sulfite: 30mg/l
---