Gamay - Villette Grand Cru - A.O.C Lavaux - 2018 - DEMETER
The Gamay grape variety is undoubtedly one of the most controversial in the wine-world. It is true that it reveals the terroir with its jovial character. On our parcel planted in 1979, only 50-60% of the original plants remain, with replacements being made every year.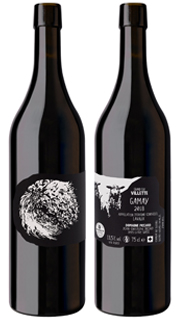 CHF 33.00
In 2018 our Gamay benefitted from hot and dry weather; resulting in a vintage worthy of a single-varietal cuvée. It has a concentration and expression which makes it an exceptional wine at our latitude, while transmitting beautiful biodynamic mineral qualities.
Gamay 2018, Villette Grand Cru, Lavaux A.O.C, Demeter
Gamay harvested on 28.09.18 ~102°Oe / 0.8 Kg/m2


Bottles of 750 ml. - natural cork Tot.Sulfites: 38 mg/l
---